As Autumn approaches, landlords in the United Kingdom are anticipating the Chancellor's Autumn Statement, an annual financial update that often brings significant changes to the property market and taxation. The Autumn Statement which will take place on 22nd November 2023 is a critical event for landlords, as it can impact your financial planning and investment strategies. In this article, our Landlords Insurance team discuss their predictions on what might be announced in this week's statement.
Energy Efficiency Guidelines
Initially, a new minimum Energy Performance Certificate (EPC) rating of C by 2028 was planned, however, Prime Minister Rishi Sunak decided to scrap the proposed energy efficiency changes in September 2023. Nonetheless, the government maintains its commitment to achieving net-zero targets and continues to offer support schemes for homeowners looking to enhance their energy efficiency.
Darren Bee, Associate Director of Lansdown says: "As we look ahead to the Autumn Statement, it's evident that the government remains steadfast in its commitment to achieving net-zero targets. While offering support schemes for homes to enhance energy efficiency, the focus on boilers, insulation and air source heat pumps may be a favourable opportunity for landlords. Keeping an eye on these developments can position landlords to not only meet regulatory demands but also provide energy-efficient, cost-effective properties."
Click here to find out useful information on how to make your rental property more energy efficient.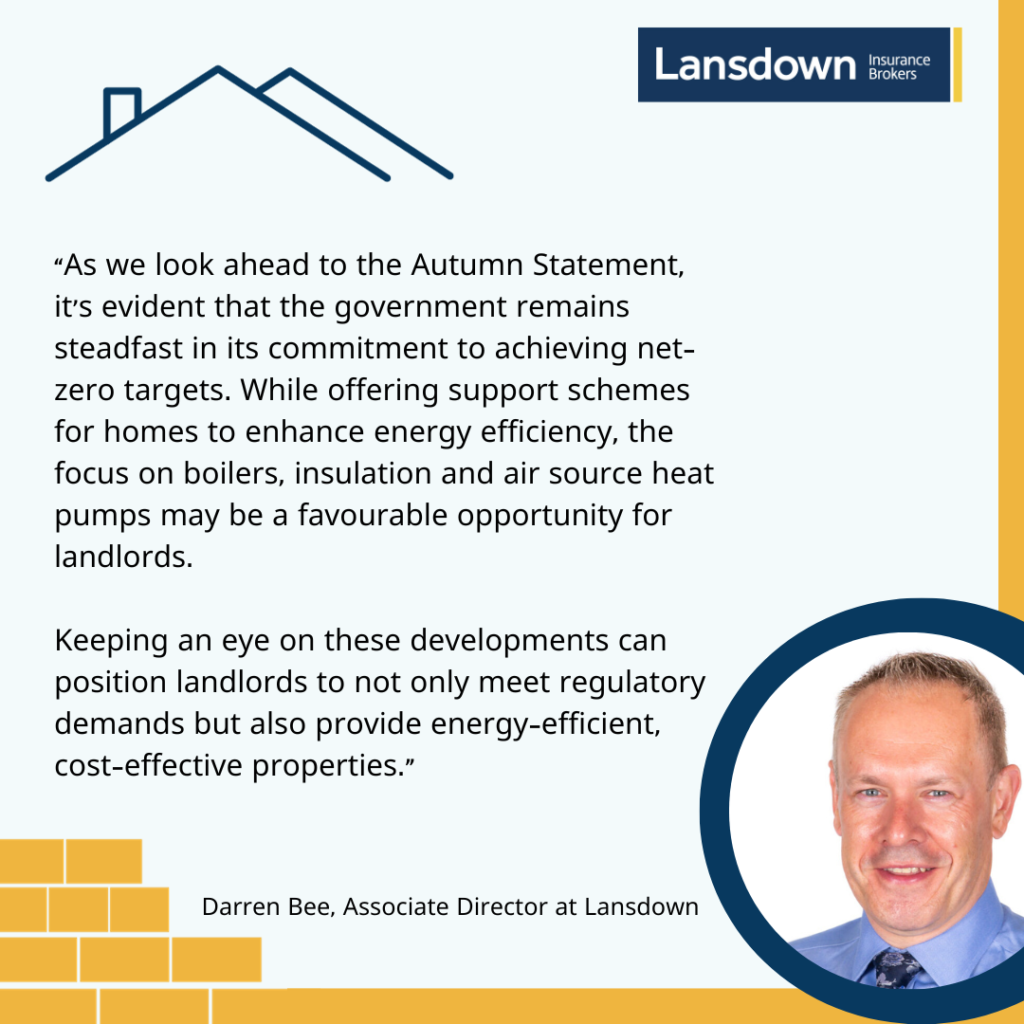 Uplift of Local Housing Allowance Rate
Escalating living costs are putting pressure on the Private Rented Sector, prompting potential government assistance to aid tenants with rental payments.
While a rent freeze like Scotland's is debated, it's unlikely that this will materialise. A cap on rent hikes or additional cost-of-living support for tenants is more likely to happen.
Keep an eye on potential changes to the Local Housing Allowance Rate in the Autumn Statement, as it could affect rental affordability and demand in specific areas.
Rental Reforms
Since its publication in May, the Renters' Reform Bill has caused uncertainty among landlords.
The key headlines from the Reform Bill so far have been the surprising reversal on Section 21 evictions and the enhanced protection for student tenancies. The bill will be going to the committee stage again soon where it will undergo an intense review, following this, we're likely to see many more changes to it.
We expect that the Government will use the Autumn Statement as an opportunity to provide more clarity on the Reform Bill.
Tax Changes
While Chancellor Jeremy Hunt states that significant tax changes are "unlikely", this doesn't rule out the possibility of minor tweaks with pressing needs on the horizon.
Buy-to-let property investments are in the spotlight due to previous mortgage interest tax relief changes, keeping landlords watchful of income tax rate shifts.
Limited companies might see changes to corporation tax thresholds – even a freeze can result in a "stealth tax" as incomes and property prices rise.
Conclusion
By staying up-to-date with these predictions and potential changes, landlords can adapt their strategies and make informed decisions regarding their properties and investments in the UK rental market.
Stay informed, stay prepared, and stay ahead as a landlord in the ever-evolving UK property market.
About Lansdown Insurance Brokers
Lansdown Insurance Brokers are specialists in Landlord Insurance and Block of flats insurance. We are able to provide flexible policies to suit individual client needs and provide advice on what cover is needed. For more information call the team on 01242 524498.
Lansdown is part of the Benefact Group, a charity-owned, international family of financial services companies that gives all available profits to charity and good causes.