Blocks of Flats Insurance
We've been advising on Blocks of Flats insurance for over 20 years, so you can rely on our knowledge and expertise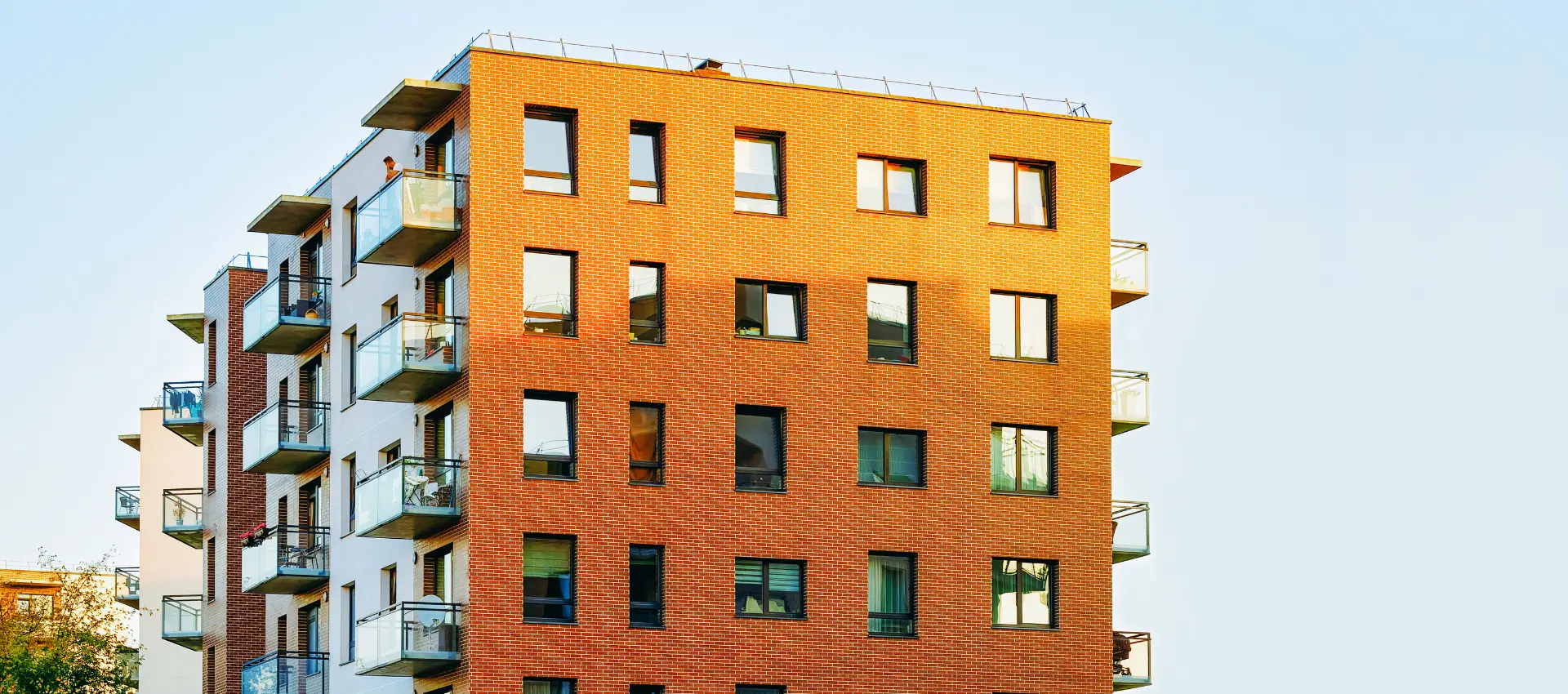 We are experts on Blocks of Flats Insurance
Whether you're a leaseholder, freeholder or management company we can provide you with advice on the best bespoke Blocks of Flats Insurance (also known as Block Insurance or Flat Insurance) for you.
Our experienced team of experts can help answer any questions you may have. We can arrange for insurance for apartments as well as for converted houses and purpose built blocks of flats.
We work with a leading panel of insurers to give you access to specialist, comprehensive cover that is designed for your needs.
Insurance for blocks of flats can include:
All risks including building insurance for flats
Above average limits of liability
Loss of rent and alternative accommodation
Flexible occupancy
Plus – our flat insurance policies are issued in-house so you get a fast and efficient personal service.
Looking for a price indication or a full quote?

Frequently Asked Questions
What is Block of Flats Insurance?

Do you own or manage a block of flats or apartments? If so, it's critical that you have the right specialist insurance you need. Standard buildings insurance policies simply won't provide you with adequate cover.

Block of Flats insurance is a specialist type of insurance designed to give you the protection you need. For example, if your building has a lift, this will have additional insurance requirements.

What cover is needed?

In addition to buildings insurance for blocks of flats it's important you consider other insurance too. For example, Directors & Officers Insurance cover will give you the confidence that you and any other insured directors or officers are protected against the cost of defending or settling many forms of legal claims.

Did you know that any lift in your building must be inspected every six months? Our Block of Flats Insurance policy not only provides the Lift Insurance you need but we will also arrange the necessary inspections.

Does the landlord or tenant pay for flat building insurance?

Normally the landlord would pay for the insurance, but this is an agreement made between the landlord and the tenant.

What does building insurance cover in a block of flats?

Our contracts automatically cover fixtures and fittings (i.e. fitted kitchens, bathrooms and wardrobes). Any personal items, furniture etc would need to be covered under a stand-alone contents policy, which we can also help with.

How can I establish the correct level of insurance cover for a block of flats?

Our contracts cover damage by all risks. To ensure the property is insured adequately, a professional valuation will be required. We can also help with this.

How often should I have my block of flats valued for insurance purposes?

Insurers recommend a block should be surveyed for valuation purposes every 3-5 years.

Is block of flats insurance a legal requirement?

No, however it may be a requirement of a mortgage to have the property insured. In addition to this, insurance policies of this type cover your legal liabilities and there is legislation in place, which puts specific requirements on the flat owners.

What does loss of rent cover?

If the property is uninhabitable due to an insured event i.e. fire, the loss of rent section will compensate the landlord for rent they are unable to collect whilst the damage is repaired.

What does malicious damage by tenants cover?

This would cover intentional damage by a tenant to the fabric of the building and/or it's fixtures or fittings (excluding contents). For example, a tenant maliciously damages a fixed hob or a door.

Am I covered if my block of flats is unoccupied?

Yes, however, always check with us first as cover can be restricted.

Can I insure a block of flats under refurbishment?

Yes, we can offer cover for this. Details of the work and the duration would need to be provided and cover would normally be restricted whilst the work is in place.

Can you insure more than one property with block of flats insurance?

We can insure multiple blocks of flats under one contract.

Does block of flats insurance cover leaks in flats?

Yes, escape of water and ingress of water would be covered under our contracts as standard.

What is the excess charge on block of flats insurance?

With our panel of insurers we can offer a range of excesses. The higher the excess, the lower the premium.

How much does block of flats insurance cost?

The price is dependent on various elements such the construction and rebuild cost of the property as well as claims history and occupancy.

How can I reduce the cost of my block of flats buildings insurance?

We have access to a panel of insurers and will shop around to obtain the best price. In addition to this, an increased excess as well as a well managed property can help keep your premium down.
Let us help you compare Block of Flats Insurance
From houses converted in to two or more flats through to multi-storey purpose built blocks there are a wide variety of building types, each with different insurance needs.
We work with a select group of leading insurers and can help you compare your options to find the right insurance cover for your specific needs.
Request a Quote now or get in touch with our experience team today to discuss your Blocks of Flats insurance needs.
Blocks of Flats Health & Safety Advice