These uncertain times are difficult for everyone, but particularly confusing for business owners. In the event of a disease outbreak like COVID-19, all organisations have a key role to play in managing the risks to the health and safety of employees/volunteers and maintaining critical services to customers.
To help with this we have put together a simple 10 minute business continuity self-assessment based on a disease outbreak. The aim of the assessment is to highlight issues you need to consider to prepare for a disease outbreak that may disrupt your organisation.
Click on the image below to open the document.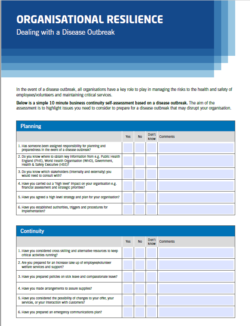 About Lansdown
Lansdown Insurance Brokers are experts in Blocks of Flats Insurance, High Net Worth Insurance and Business Insurance. We can provide flexible policies to suit individual client needs and give advice on what cover is needed. For more information call the team on 01242 524498 or email us.