As a director or secretary of a block of flats, your decisions and actions can have significant consequences. It is essential to recognise that you may face personal liability for any harm caused to employees, the public, investors, or regulatory compliance. Without the protection of Directors & Officers insurance, you may be held accountable for paying fines, compensating affected parties, or even facing imprisonment.
Understanding Directors & Officers Insurance
A Directors & Officers (D&O) Insurance policy's primary purpose is to cover the costs associated with compensation claims made against your management company and insured individuals. These claims may arise due to alleged wrongful acts, errors, or negligence committed by directors, partners, or officers in the course of their duties.
Do I Need Directors & Officers Insurance?
If you are a director or secretary of a block of flats, whether it's a Limited Management Company, Right-to-Manage Company, or Residents' Association, the responsibilities of directors, partners, and officers extend far beyond making business decisions, and we would recommend anyone in such a position, to consider taking out a Directors & Officers Insurance policy.
What risks does Directors & Officers insurance protect against?
This cover serves as a safety net in situations where a director, or officer, has a claim made against them or the management company in regard to a decision, or action they have taken in their role. It provides financial coverage for legal defence costs, settlements, and judgments resulting from claims made against insured individuals. By securing D&O Insurance, you can have peace of mind, knowing that you are shielded from the potentially devastating financial impact of legal actions.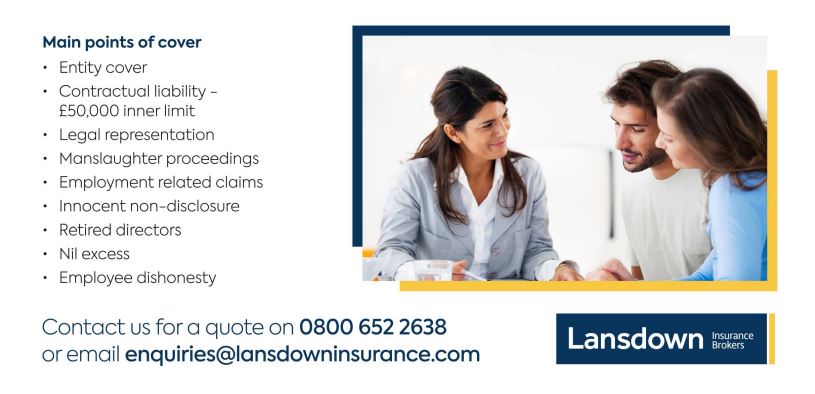 What is the cost of Directors & Officers insurance?
The potential financial and reputational risks associated with lawsuits and claims against directors and officers make D&O Insurance a valuable investment for many organisations.
Each insurance provider may also have its own pricing structure and criteria for determining premiums. At Lansdown, we have partnered with Allianz and we have a specifically created policy designed to protect you and your fellow directors. Depending on the limit of indemnity and the number of flats you own, the pricing structure is as follows:

Premiums include IPT (Insurance Premium Tax) and our fee.
If your property exceeds 75 flats, please contact us. You may also be interested in our flexible Block of Flats Insurance.
Lansdown Insurance Brokers – Your Trusted Partner
When considering Directors & Officers Insurance, it is crucial to choose a reliable insurance provider who understands the specific needs and challenges faced by companies and their directors.
With Lansdown, you can benefit from our expertise in navigating the complexities of D&O Insurance. We offer comprehensive coverage, ensuring that you and your fellow directors, partners, or officers are protected against the costs associated with defending or settling various types of legal claims. With our assistance, you can focus on fulfilling your responsibilities without the worry of personal liability hanging over your head. For more information call the team on 01242 524498.