Here at Lansdown Insurance Brokers, our in-house landlord insurance specialists have teamed up with a third-party flood insurance provider, FloodFlash, offering easy and flexible cover for your rental building even if the property has a risk of flooding.
Here are five reasons to find out more today: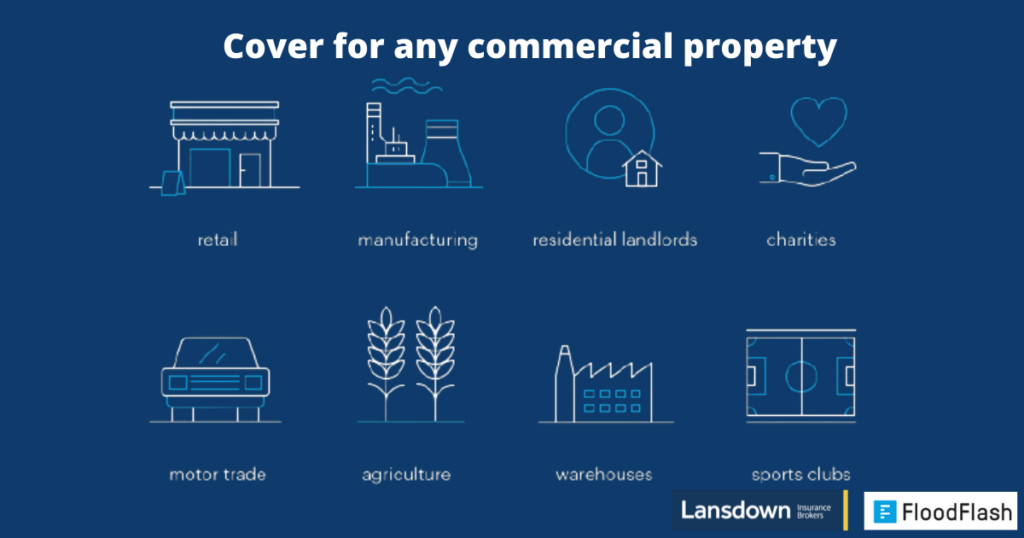 Landlord flood insurance quote – no matter what the risk
Insurance is a key consideration when looking to finance a property. Banks and trustees often require all perils to be covered before signing any agreements. Having adequate flood insurance in place can be the difference between a deal going ahead or not.
FloodFlash combines the latest flood modelling with internet-connected sensor technology. As a result, quotes are accurate to an individual property – not a postcode. These risk-based quotes are available for rental properties that have flooded before or those that had cover removed by a previous insurer. If you have an excess on your landlord building insurance, you can even use FloodFlash to fill the exposure.
Cover for any landlord rental property
From single-property landlords or pop-up shops to housing corporations and multinational companies. As long as the address you are looking to insure is not your residential address then we can help.
Here are some examples:
commercial rental property
residential rental property
home property used as a registered business address
multiple properties within a single site
You can recover faster because claims get paid within days
We understand loss of rent is one of the biggest concerns you face as a landlord. When floods happen, some loss of rent can be impossible to avoid.
But, FloodFlash claims are different. Having the cash in the bank means that recovery begins earlier and tenants can move back in faster and a lower exposure to loss of rent for you.
Spend money from claims without restrictions
Another benefit of choosing Lansdown to facilitate your landlord flood insurance is that you can spend the money from the claim on whatever repair you like. That could be reinstating the property or the grounds around it, re-housing costs or other expenses. You are in control of your rental property recovery.
Cover your commercial tenant too
We understand if you're unable to secure adequate flood insurance, it can drive down the market value of the property or leave the potential for voids. Give tenants greater confidence in the location they are renting with flood insurance.
For more information about flood cover for Landlords, call 01242 524498 / email enquiries@lansdowninsurance.com
About Lansdown
Lansdown Insurance Brokers are specialists in Block of flats insurance, Landlord insurance and Business insurance.
We are able to provide flexible policies to suit individual client needs and provide advice on what cover is needed. For more information call the team on 01242 524498.