It's happening, the nights are drawing in and the temperatures are dropping. Autumn will soon be upon us, so we caught up with our car insurance team to find out how you can prepare your car for the weather that is to come.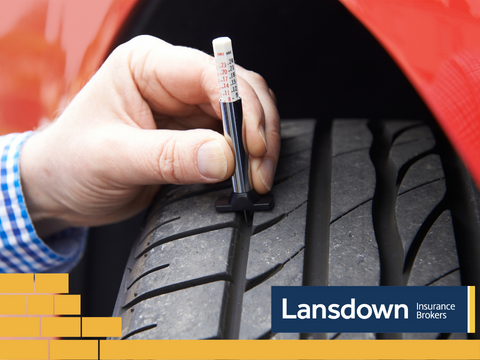 1. Check your tyre tread depth
Admittedly, this should be done year-round, not just in Autumn, but as the weather turns and the rain begins to become a bit more frequent, there's even more reason to check your car tyres.

The legal tyre tread depth for cars in the UK and Europe is 1.6mm across the central three-quarters of the tyre, according to law. The tread must meet this minimum requirement across its complete circumference.
The RAC has some useful guidance on how to do this here.
2. Ensure all of your car lights work
The nights are drawing in, so there's more chance you'll need to use your car lights in the evenings or the darker mornings. It's a lot easier to check your car lights if you have someone on hand to help.

The RAC recommend checking in the following sequence:
Side lights
Dipped beams
Main beam
Fog lights
Front indicators, left and right
Brake lights
Reversing lights
Rear indicators, left and right
Hazard lights
If bulbs aren't working, you should get them replaced immediately.
Your driving needs might have changed since you insured your car. Maybe you've got a new job and you're now using your car for business use too, or you could be going on an extended trip and need to adjust your cover to reflect the fact that your car won't be on the road.

If you need to review or make any changes to your car insurance policy, please just give our friendly team a call on 01242 524498 or email enquiries@lansdowninsurance.com.
4. Check and replace windscreen wipers (if needed) and top up windscreen wash
Windscreen wiper blades don't last forever, they can get worn down over time and need replacing. This might have happened over the summer months but you've not noticed as you've been using them less.

You can test your wipers by pouring some water onto your windscreen, turning them on and checking that they wipe all of the water away. If there are lines, or patches of water untouched, it's time to replace them.

Your windscreen fluid might need topping up too. This is an easy job to do yourself and the fluid can be bought at various stores and petrol stations.
5. Give your car a good clean – particularly your windscreen and windows
Over the summer, your car might not have got that dirty, but with the autumn months come low sun and steamed-up windows, and even if your windscreen and windows are just slightly dusty, this can really impact visibility.

It's worthwhile ensuring that it's clean both outside and inside before the poorer weather hits.
About Lansdown
Lansdown Insurance Brokers are specialists in personal insurance such as car insurance and home insurance.

We are able to provide flexible policies to suit individual client needs and advise on what cover is needed. For more information call the team on 01242 524498.