Lansdown has rebranded with a new logo and a user-friendly new look website update. To celebrate these changes, we have chosen five Gloucestershire based charities to receive a donation of £1,000 each to mark the occasion.
Darren Bee, our Associate Director commented: "As part of the Benefact Group, charity giving is at the heart of what we do and we couldn't think of a better way to celebrate Lansdown's brand-new look and feel by donating to five local charities.
"We would like to take this opportunity to thank each one of the five charities for their ongoing hard work and determination within our community and we're looking forward to seeing how each charity will use the donation to help with the vital work they do making a positive difference."
The five charities benefiting from £1,000 each from Lansdown Insurance Brokers are;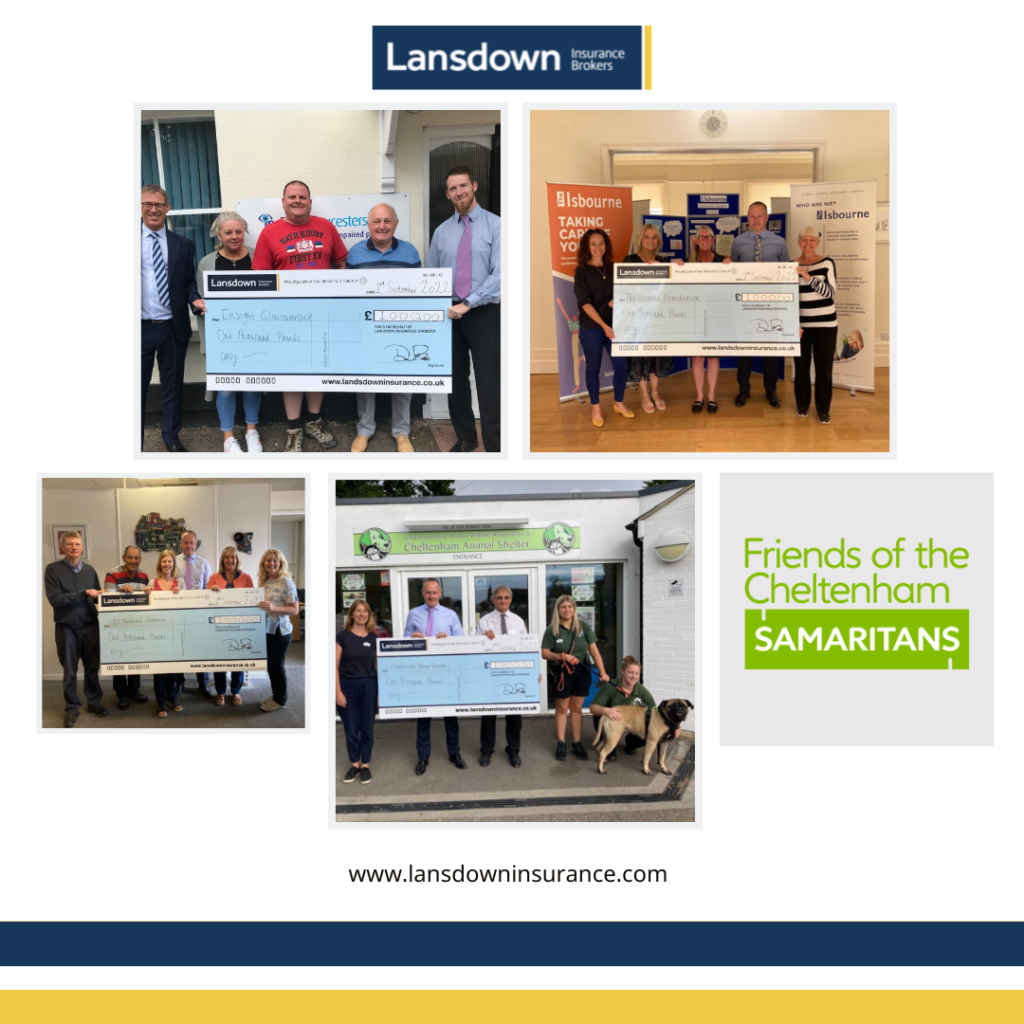 Lansdown's new look and feel was revealed at our rebrand event, which was attended by the Lansdown team and several of our working partners.
Speaking about the rebrand, Darren Bee said: "Lansdown is undergoing a makeover and altered style. However, I feel it is important for me to emphasise our ethos and service remains at the heart of who we are and everything we strive for. We are looking positively at the future with our aim focused on continued growth as a business and as a team; our clients being at the centre of everything that we do."
Our new brighter logo and intuitive website design reflect the company's ongoing digital strategy and although improvements are still ongoing, this new first phase of its rebrand allows users to easily navigate around the website when looking to obtain insurance quotes.
Each of the five charities receiving a £1,000 donation from us were grateful for the help with the vital work they do.
Peter Newcombe, General Manager at Gloucestershire Animal Welfare Association voiced his thanks: "We are absolutely thrilled to have been chosen to receive £1,000 and it will make a big difference to the animals here at the Shelter. This year we are seeing a lot of stray and unwanted cats, dogs and small animals needing expensive medical treatment and this donation will enable us to care for more pets who need our help."
Insight Gloucestershire were pleased for the support, Steve Martin, General Manager said: "Everyone at Insight Gloucestershire is thrilled about the £1,000 donation from Lansdown Insurance Brokers. Sight Loss can cause anxiety, depression and feelings of social isolation. The money will go towards running our important Helpline for a month. This service is run by experienced Sight Loss Advisors and receives over 300 calls a month from people asking for advice and information."
The team at IT School Africa were quick to thank Lansdown for the donation, Lucy Pollock General Manager commented: "We are delighted to receive such a generous donation from Lansdown Insurance Brokers which will support our work in Gloucestershire; improving digital skills for vulnerable and disadvantaged people. Our programme TECH Connect Community works with community partners in the county to help deliver skills and support for those most in need, giving people the confidence to use technology for a range of health, financial, social benefits. Connecting people digitally is key to improving life opportunities and social isolation and enabling those disadvantaged to fully participate in society."
The short-term aim of the Friends of Cheltenham Samaritans is to raise funds to install a defibrillator for use by both volunteers and the local community. The Chair of the Friends of Cheltenham Samaritans, Leigh Norwood said: "We are truly grateful for this fantastic donation from Lansdown Insurance Brokers. Donations like this are especially welcome in the current financial climate when fundraising for charities is becoming more and more challenging. We would like to use the donation to put towards the cost of purchasing and installing a defibrillator on the outside of the Samaritans centre in Back Albert Place, Fairview, Cheltenham. This will be available, not only for use by the Samaritans volunteers, but also by the local community."
Community support is also at the centre of the work of The Isbourne Trust. Their General Manager and trustee Joanna Hill said: "The Isbourne is delighted to be chosen as one of Lansdown Insurance Brokers five charities to receive this donation. The charity's highly successful Community Wellbeing Programme will benefit whole heartedly from this contribution. The funds will go towards supporting the charity's monthly drop-in sessions Art for Wellbeing and Mindfulness to Support Bereavement, both have proven to be a valuable resource for those needing support within our community."
About Lansdown
Lansdown Insurance Brokers are specialists in Block of flats insurance, Landlord insurance and Business insurance.
We are able to provide flexible policies to suit individual client needs and provide advice on what cover is needed. For more information call the team on 01242 524498.