When it comes to supporting the local Gloucestershire community, the team at Lansdown cannot be faulted. This week, Associate Director, Darren Bee, Claims Manager, Mandy Grindle and Commercial Support Assistant, Yazmine Belcher, have visited not one, but three local food banks; Gloucester, Tewkesbury and Cheltenham.
Darren, Mandy, and Yazmine took not only food supplies, but also a £500 donation for each charity. Darren explained the importance of this:
"The last two years have been really hard on charities and the local community because of the pandemic, and things only seem to be getting tougher for people in a financial sense with the cost of living rising at such a rapid rate.  We hope our donations can help these charities to support our community and prevent individuals and families from going hungry this winter."
Marion Badham, Voluntary Project Manager at Tewkesbury Food Bank thanked Lansdown and added:
"Your generosity will have a huge impact on the lives of our clients this Christmas.  Each year we run a Christmas Blessings project when we give out to those in need vouchers to spend in local Tewkesbury shops and also a bag of Christmas 'goodies'.
 Our clients say that this help at Christmas time is a huge relief as it ensures that they can make Christmas time a real celebration for their children.  One client last year wrote in to say, 'I can't thank you enough.  With the vouchers I have been able to fill my freezer with enough food to feed my family for the whole of January.'  Another quote, ' This help means me and my kids can now have a great Christmas'.
So, may I say on behalf of all the people we will be helping this Christmas, a huge thank you to all the staff at Lansdown insurance.  So far we have over 200 people (adults and children) who have signed up to receive a Christmas Blessings so your generosity will be reach so many."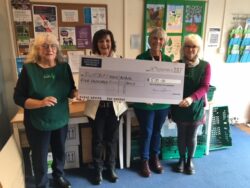 Assistant Manager at Gloucester Foodbank, Fiona Jarvis, said:
"We at Gloucester Foodbank aim to support people in crisis by providing a three-day food parcel. We work with referral agencies around the city e.g. Citizens advice Bureau and GL communities who as well as issuing food vouchers can signpost clients in other ways, for example helping them to maximise their income or assisting with debt problems. Next month we will be sending out Christmas hampers with the food parcels and we are grateful to Lansdown Insurance Brokers for giving us £500 towards this initiative."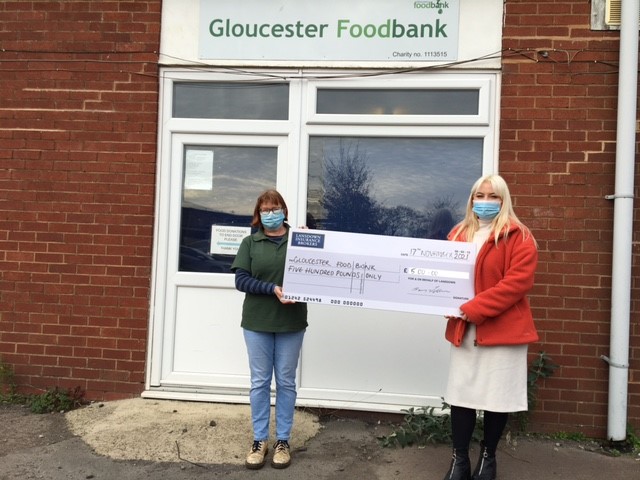 For more information on how you can help these charities, please visit their websites below: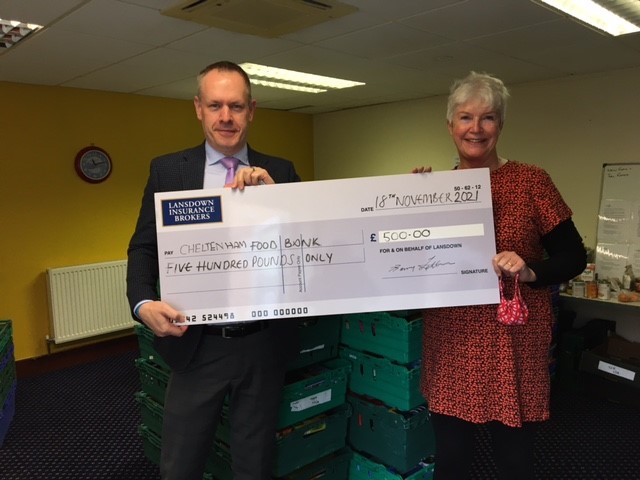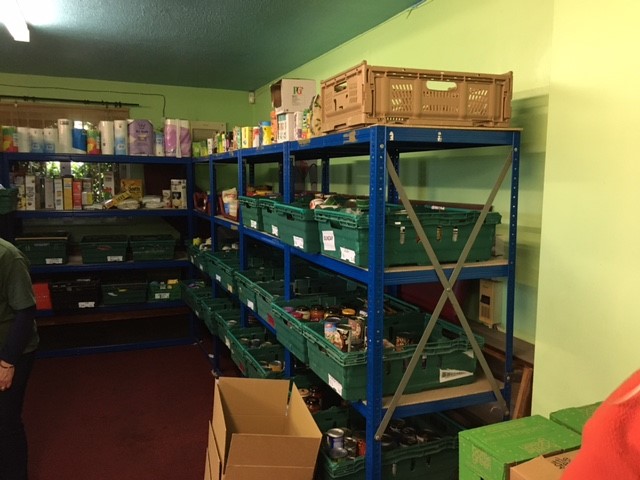 About Lansdown
Lansdown Insurance Brokers are specialists in Block of flats insurance, Personal insurance and Business insurance. We are able to provide flexible policies to suit individual client needs and provide advice on what cover is needed. For more information call the team on 01242 524498.