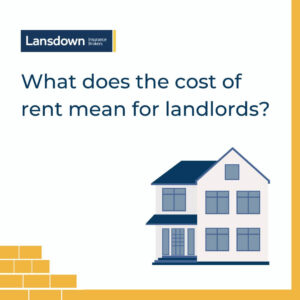 As Labour chiefs claim landlords are wealthy and rents should be frozen, here at Lansdown Insurance Brokers our Landlord Insurance team look into the real cost of rent and what impact the cost-of-living crisis is having on landlords.
Many renters are calling for the UK Government to freeze private rent, with backing from London Mayor Sadiq Khan causing frustrations for many landlords. Now, it's not clear if the Government is going to look into this, but what is clear is that both sides of the story need to be heard.
The cost-of-living crisis has had a major impact on both landlords and renters, with landlords suffering from mortgage hikes and renters struggling to make ends meet with rising food and energy costs.
In a recent survey carried out by Lansdown Insurance Brokers, out of 171 respondents, 58 per cent said they have had tenants vacate their properties due to the cost-of-living crisis.
This is a worrying figure and it's clear to see the current landlord/rental market is extremely volatile, meaning it's more important than ever for landlords to take out legal expenses and rent guarantee options.
We're suggesting landlords take a look at their current Landlord insurance policies and check their indemnity period as soon as possible. It's important to consider what will be enough time should the worst happen. We're proud to offer a 36-month period as standard and we're continuing to educate the importance of rent guarantee and legal expenses during this tricky period.
The rise in rents
Significant mortgage rates coupled with increased rental demand have seen rental evictions soar by 98 per cent in a year, according to official figures revealed by Ministry of Justice figures.
The cost-of-living impact, demand for rental properties and low wages has seen many landlords face a tricky balancing act. However, it's encouraging to see landlords are willing to have a flexible approach amid the cost-of-living crisis, seeing 75 per cent consider freezing rent to help tenants and 66 per cent of landlords happy to consider reducing rent all together.
Landlords can also help their tenants reduce their energy bills by educating and providing essential information about how to use appliances efficiently, ways to reduce mould with the correct ventilation and of course having regular communication.
The squeeze on rental returns
It's not just the renters who are having to save the pennies, according to our recent landlord survey, 33 per cent of landlords are now managing their own properties privately and no longer paying a property manager.
There's no hiding the first few months of 2023 are proving worrying for both landlords and the rental industry and with a 'Tax Attack' proposed in March's budget it's clear there is a real threat to landlords as we navigate through the first quarter of the year.
Lansdown Insurance Brokers are specialists in Landlord Insurance and Block of flats insurance. We are able to provide flexible policies to suit individual client needs and provide advice on what cover is needed. For more information call the team on 01242 524498. Lansdown is part of the Benefact Group, a charity-owned, international family of financial services companies that gives all available profits to charity and good causes.