Lansdown Giving
We granted a total of £15,000 to charities at our inaugural Lansdown Giving charity luncheon at the Double Tree Hilton Hotel, Cheltenham on 23rd May. Darren Bee, our General Manager presented a cheque for £10,000 to Sarah James and Ria Heap of children's charity, James Hopkins Trust. Nine other Gloucestershire based charities reached the final voting stage of the campaign and received a further £5,000 from us between them.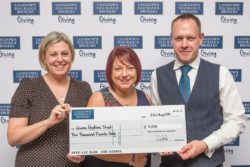 Darren said: "I've been General Manager at Lansdown for the last 2 years and it is with great pride that we are able to make these grants totalling £15,000 to charities voted for by our clients and the general public. This campaign is something completely new to us, and it's fantastic to see so many people getting involved, we had nearly 8,000 votes!"
The Awards have strict entry criteria; only small to medium sized charities are eligible and the grant has to be used to benefit Gloucestershire's community. This is to ensure that the money granted will really make a difference to our local community.
Employees here at Lansdown each voted for a charity to make the initial shortlist of 17. These charities were then contacted to provide a statement describing what they do and how they would put this money to good use within the community. Following this, the shortlist was released to the general public and they were asked to vote for the winner.
Darren Bee continued: "We were amazed with the amount of votes and support the campaign got from both clients and non-clients, and even people that don't live in Gloucestershire. Being able to run this and help these local charities means so much to us as a company as the majority of our staff are Gloucestershire residents."
The full results at the Lansdown Giving Charity lunch were:
1st place – £10,000 – James Hopkins Trust
2nd place – £1,000 – Vale Wildlife Rescue
3rd place – £850 – Sunflowers Suicide Support
4th place – £750 – Mindsong
5th place – £650 – Cotswold RDA (Riding for the Disabled Association)
6th place – £550 – Cheltenham Animal Shelter
7th place – £450 – Gloucestershire Young Carers
8th place – £350 – Gloucestershire Deaf Association (GDA)
9th place – £250 – The Barn Owl Centre
10th place – £150 – CCP Cheltenham
Read what our customers had to say about us
"Thank you. You may possibly be the most efficient and polite company I have had to deal with for the last 7 years"